2018
January
Saturday 20th Minehead - Butlins - FESTIVAL OF THE 60S - Fri 19 Jan 2018 - Mon 22 Jan 2018 (3 nights)
February
Saturday 3rd Hastings, White Rock Theatre -GERRY AND THE PACEMAKERS Farewell Tour - With Special Guests THE MERSEYBEATS & STEVE ELLIS
Friday 16th Wilton, Nr Salisbury - Michael Herbert Hall, South St, Wilton, Salisbury SP2 0JS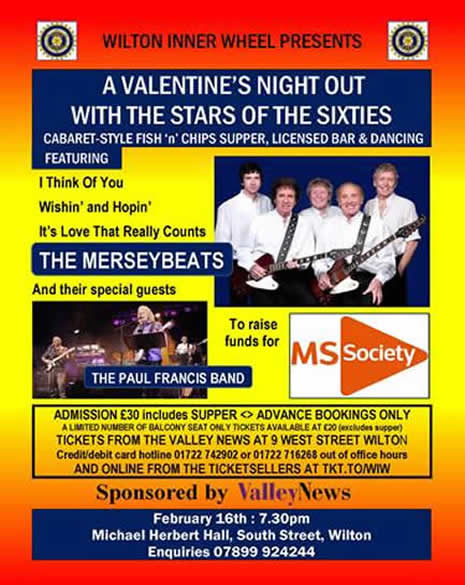 Saturday 17th Folkstone- Grand Burstin Hotel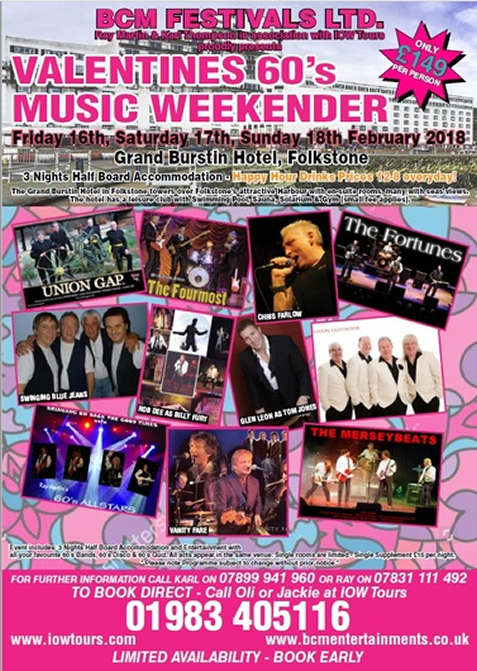 Sunday 25th Bury St Edmunds - The Apex Theatre - The Merseybeats, The Union Gap and Cupid's Inspiration
Starts: 7.30pm - Tickets: £26.50 - Venue: The Apex, Bury St Edmunds - This event is promoted together by OEP live! and The Apex
March
Friday 2nd - New Brighton - Floral Pavilion- Charity Event for RELATE - 60s Night Out featuring THE MERSEYBEATS with special guests THE SWINGING BLUE JEANS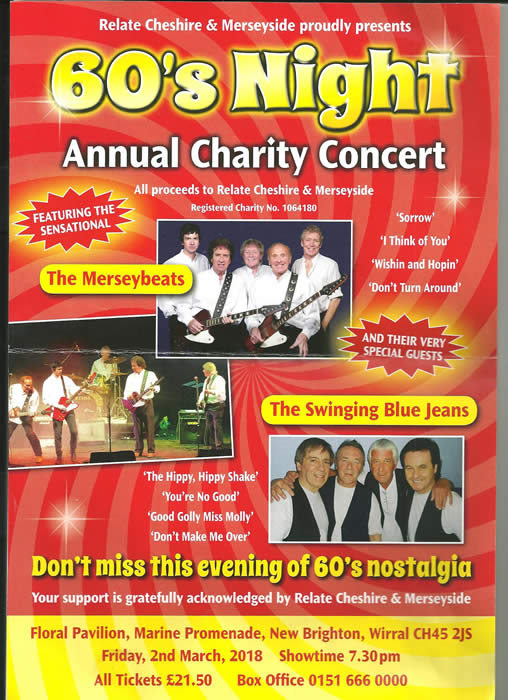 Friday 9th - Somerset - Burnham On Sea - Sandy Glade Holiday Park - 60's Weekend
Sunday 11th - Skegness - Butlins
Friday 16th - Portsmouth - New Theatre Royal GERRY AND THE PACEMAKERS Farewell Tour - With Special Guests THE MERSEYBEATS -
20-24 Guildhall Walk, Portsmouth, PO1 2DD BOX OFFICE 023 9264 9000
April
Saturday 7th - Blackpool - Norbreck Castle Hotel
Thursday 12th - Shrewsbury - Theatre Severn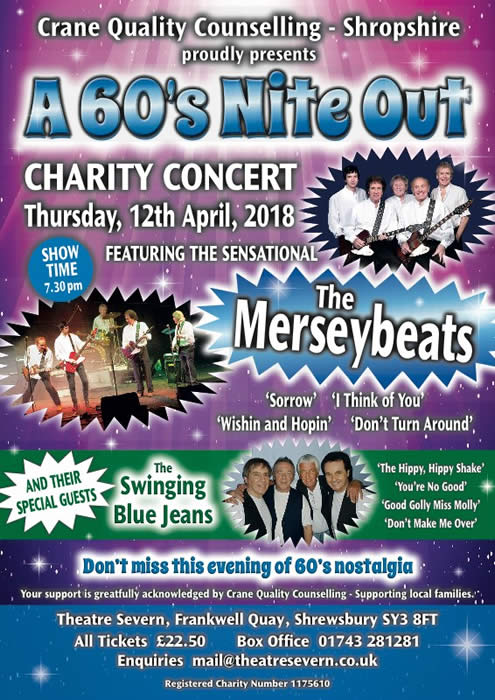 May
10th May CRUISE - Scandinavain Cities COUNTRIES DENMARK UK GERMANY NORWAY ENGLAND
Cruise aboard Saga Sapphire to Copenhagen, Oslo and Aarhus, with live 60s and 70s music from superstar guests Gerry and the Pacemakers, The Merseybeats and The Fortunes
Enjoy performances from three top 60s bands as you cruise to a trio of stylish Scandinavian cities…
Cruise the Skagerak strait between the Jutland peninsula of Denmark and coasts of Norway and Sweden, to the sound of live music from the 60s and 70s on board! The 1960s saw a brand new music scene, lead largely by Liverpool bands who created the 'Mersey sound'. Superstar 60s band, Gerry and the Pacemakerswill be on board to recreate the iconic sounds of your youth at thrilling concerts that will have you singing and dancing in the aisles… Gerry and the band worked the same circuit as The Beatles, also under the management of Brian Epstein, and in 1963 had three massive hits with 'How do you do it', 'I like it' and the massive anthem that endures today, 'You'll never walk alone'. Gerry went on to write the hit songs 'Ferry across the Mersey' and 'Don't let the sun catch you crying' before the group disbanded in 1966. Having reformed in 1974 the band have continued to tour worldwide.
The Merseybeats and The Fortunes will also be on board, each playing two live concerts. The dandily-dressed Merseybeats performed regularly at the Cavern Club, appearing alongside The Beatles more times than any other band of the era. Their hits include 'I think of you', 'Wishin' and hopin', and 'Lovely Loretta'. The Fortunes formed as a close harmony band, and in the early 60s their hit single 'Caroline' was adopted as the theme tune of the pirate radio station of the same name. 'You've got your troubles' and ' Here it comes again' are sure to have you singing along! Don't miss this musical trip down memory lane in the especially intimate setting of Saga Sapphire's Britannia Lounge…
In between these musical interludes you'll visit the chic Scandinavian cities of Copenhagen, Oslo and Aarhus, with overnight stops at Copenhagen and Oslo offering the chance to explore and experience the local nightlife too…
Inspiring experiences to enjoy… sipping cocktails from an ice glass in the spectacular Oslo Ice Bar, seeing the Middelgrund and Flakfortet island fortresses during a boat trip around Denmark's Øresund strait, walking through a rainbow glass rooftop walkway in Aarhus and cruising along the impressive Kiel Canal.
https://www.sagacruises.com/our-destinations/norway/scandinavian-cities.aspx

Friday 25th Liverpool TBC
Saturday 26th - PRIVATE PARTY
June
Saturday 9th Amersham - The Polish Club, (Amersham Rock N Roll Club) Raans Road, Amersham. HP6 6LX (With The Swinging Blue Jeans)
Sunday 17th Hopton-On-Sea - Potters Lesiure
ONE NIGHT SIXTIES FESTIVAL - SUN 17TH JUNE 2018 - Original 60s bands will perform live in the Atlas Theatre, after your five-course dinner with selected wines. The party continues well into the night...
July
August
September
October
Wednesday 17th - Hayling Island - Mill Rythe
2nd October to the 30th November " 60s Tour " dates to follow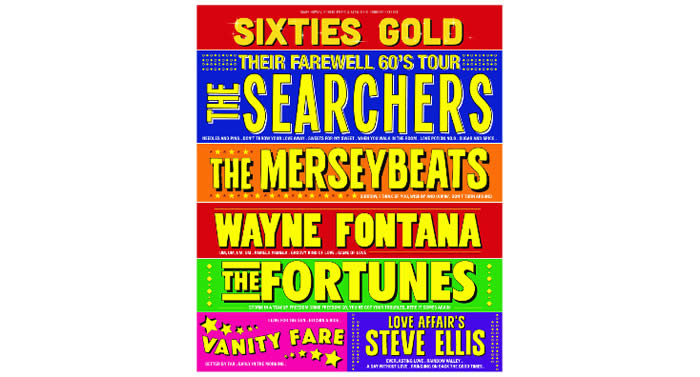 November
Saturday 24th - Swinging 60's Autumn Weekend 2018 -

Holiday Resort Unity, Brean Sands, Somerset, TA8 2RB

December