*2017 Dates for The Merseybeats *2017 Dates for The Merseybeats *2017 Dates for The Merseybeats *

March 2017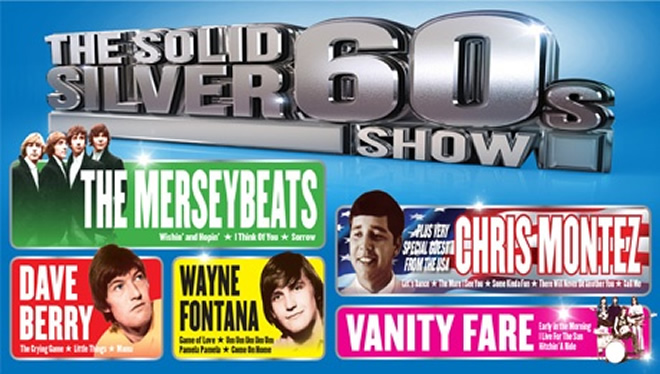 Over 30 years, the Solid Silver 60s Show has entertained the nation and celebrated history's most successful decade of music.
Commonly referred to as an institution on the 60s circuit, SS60s is the UK's original and premier sixties show, bringing you classic hits performed by the original hit makers.
IN 2017 we are delighted to welcome back Solid Silver 60s favourites THE MERSEYBATS. Performing alongside them after his successful appearance on last year's tour, we are delighted to welcome back DAVE BERRY. Completing this stellar line up, we also are thrilled to see the return of WAYNE FONTANA and VANITY FARE to the bill and are delighted to welcome back our very special guest CHRIS MONTEZ from the USA.
Come on down to the Solid Silver 60s Show, see the original artists singing their greatest hits and relive some of your fondest memories of an era that will last forever.
March 2017
April 2017
May 2017
End of SS60s Tour

April 2017
Saturday 15th - Cheshire - Alvaston Hall - Warners Leisure Hotel 5herseybeats
The Merseybeats are one of the leading bands to come out of Liverpool having played at The Cavern alongside The Beatles, The Searchers, Swinging Blue Jeans and Billy J Kramer to name but a few. Celebrate the Liverpool sixties era with one of the true legendary bands
June 2017
Saturday 17th - Belguim
The Cultural Centre, Leopoldsburg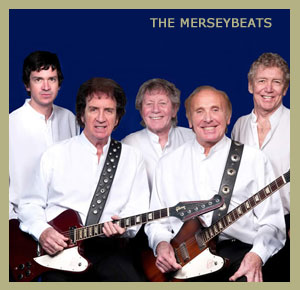 The Merseybeats is een Britse popgroep, opgericht in 1961 in Liverpool. De naam kwam uiteraard van de Merseybeat, de typische muziekstijl van Liverpool in die jaren. De groep had een paar hits in 1964. Ze werd opgeheven in 1966, maar heropgericht in 1993 en bestaat nog steeds. Ze stonden bekend als de 'best geklede groep' van de vroege jaren zestig en traden vele malen samen met The Beatles op in de Cavern Club. Brian Epstein is zelfs nog een tijd hun manager geweest. Wishin' and Hopin' en I Think Of You zijn twee van hun grootste hits. Gitarist en zanger Tony Crane was er bij van in het begin en komt ook naar Leopoldsburg, hiermee zijn zij voor het eerst in ons land te gast!
July 2017
Wednesday 5th - Lowestoft, Gunton Hall - Warners Leisure Hotel
Saturday 22nd - Hayling Island - Mill Rythe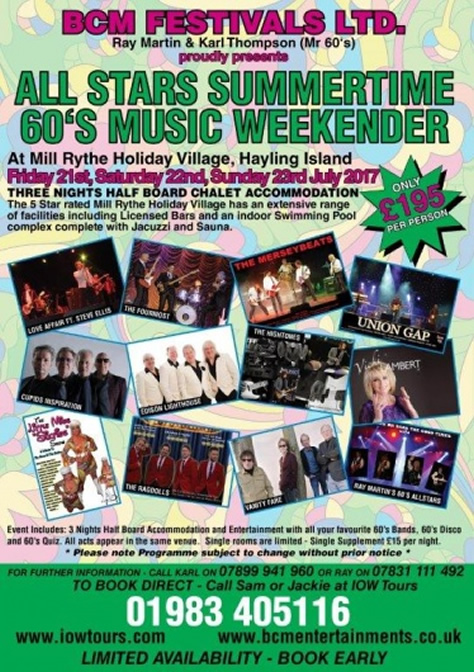 August 2017
5th Sweden - Helsingborg
September 2017
Friday 8th - Gloucester - PRIVATE FUNCTION
Thursday 14th - Liverpool - THE CAVERN
L2 6RE
Friday 22nd - Whitby LIVE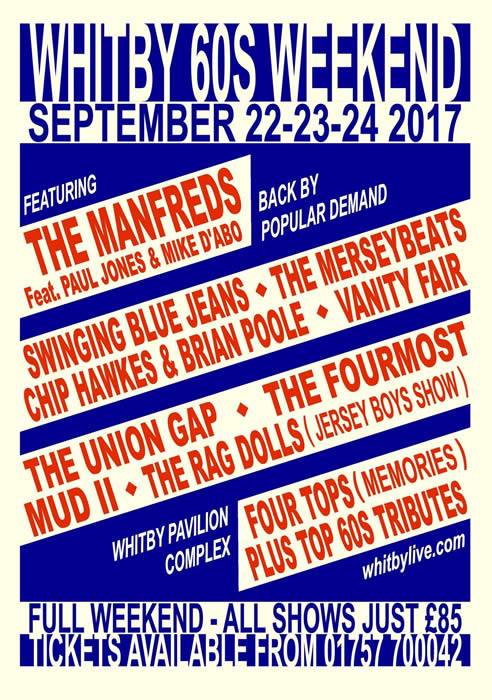 Tuesday 26th - Pakfield - Pontins
October 2017
Thursday 5th New Brighton - Floral Pavilion
Thursday 12th October to 24th November ROCKIN' & ROLLING' WITH LAUGHTER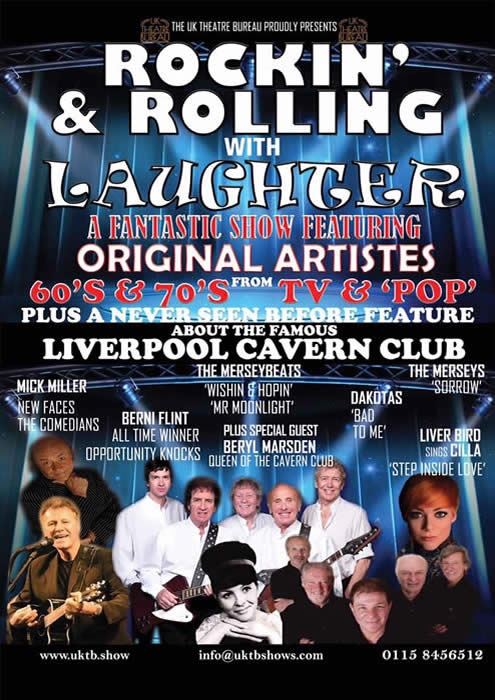 Sept 28 - Stockport Plaza - TICKETS ON SALE
Sept 30 - Liverpool Echo Arena - TICKETS ON SALE
Oct 2 - Grimsby Auditorium - TICKETS ON SALE
Oct 13 - Babbacombe Theatre, Torquay - TICKETS ON SALE
Oct 15 - Theatre Royal, Windsor -TBC
Oct 20 - Newcastle Opera House - TICKETS ON SALE
Oct 21 - Scarborough Spa - TICKETS ON SALE
Oct 27 - Burnley Mechanics -TBC
Oct 29 - Billingham Forum -TBC
Nov 4 - Coventry -TBC
Nov 6 - Llandudno -TBC
Nov 11 – Dudley Town Hall -TBC
Nov 12 - Crewe Lyceum -TBC
Nov 14 - Blackpool Grand -TBC
Nov 15 - Cheltenham -TBC
Nov 16 - Fernham Hall Fareham -TBC
Nov 17 - Shanklin Theatre, Isle of Wight - TICKETS ON SALE
Nov 23 - Winding Wheel, Chesterfield -TBC
Sunday 22nd Spain - Benidorm Palace

November 2017
December 2017
Saturday 2nd - Hunstanton Searles Leisure Resort - www.hoseasons.co.uk/SearlesResort‎ - 01485 534211

Tuesday 12th - Hemsby - Seacroft
5 Night Through The Decades Special - 11th Dec 2017 Monday, 5 Nights
Seacroft Holiday Village
Beach Rd, Hemsby, Great Yarmouth NR29 4HR
01493 809910
Friday 15th - Morecombe - The Platform
Saturday 22nd Arden Hall - TONY CRANE SOLO with THE PACEMAKERS
Thursday 28th IOW - Norton Grange - Warners Leisure Hotel
2018
Fri 16th Feb 2018 - Sun 18th Feb 2018
GRAND BURSTIN HOTEL