*2017 Dates for The Merseybeats *2017 Dates for The Merseybeats *2017 Dates for The Merseybeats
September 2017
Friday 8th - Gloucester - PRIVATE FUNCTION
Thursday 14th - Liverpool - THE CAVERN
THE MERSEYBEATS RETURN TO THE CAVERN TO RE-CREATE THE SHOWS THEY PERFORMED THERE IN THE 1960S
https://www.cavernclub.org/events/event/merseybeats
L2 6RE
Friday 22nd - Whitby LIVE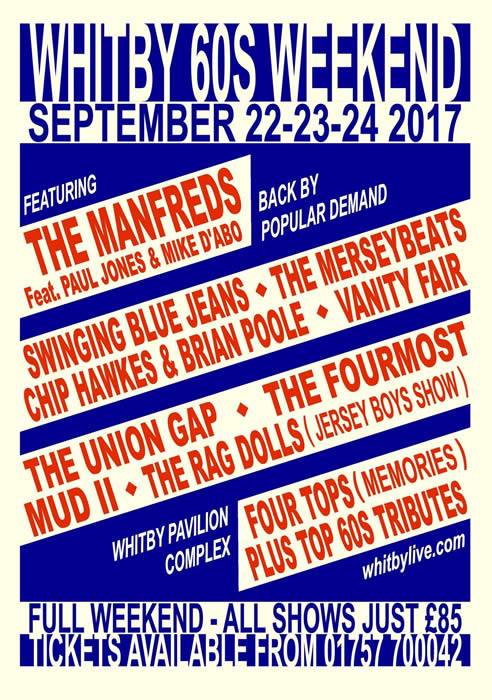 Tuesday 26th - Pakfield - Pontins
October 2017
ROCKIN' AND ROLLING WITH LAUGHTER
Thursday Sept 28 - Stockport - Plaza
Sunday Oct 15 - Windsor - Theatre Royal
Friday Oct 20 - Scarborough - Spa
Friday Oct 27 - Burnley- Mechanics
Sunday Oct 29 - Billingham - Forum
Saturday Nov 4 - Coventry - Belgrade Theatre
Saturday Nov 11 – Dudley - Town Hall
Wednesday Nov 15 - Chelmsford - Civic Theatre
OCKIN' & ROLLING' WITH LAUGHTER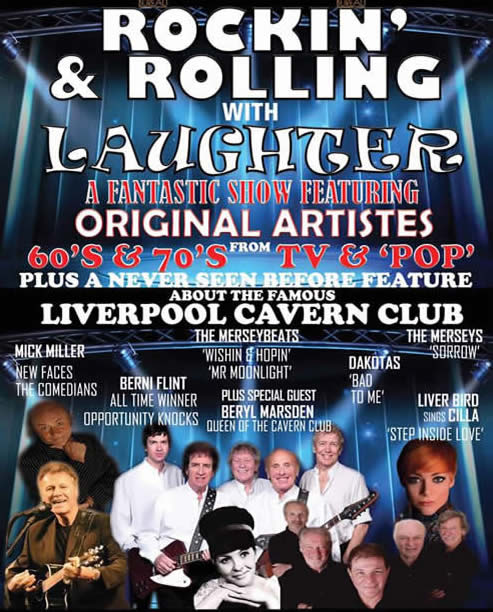 November 2017
December 2017
Saturday 2nd - Hunstanton Searles Leisure Resort - www.hoseasons.co.uk/SearlesResort‎ - 01485 534211
Solid Gold Weekend 2017 01st Dec - 03rd Dec
Solid Gold Weekends presents, 3 days and nights of live music with:
Showaddy Waddy
Marmalade
Merseybeats
Marshall King
Retro Revival
and so much more...
Saturday 9th - Skegness - Butlins Holiday
Friday 15th - Morecombe - The Platform - The Merseybeats Christmas Show - To Include Hotpot Supper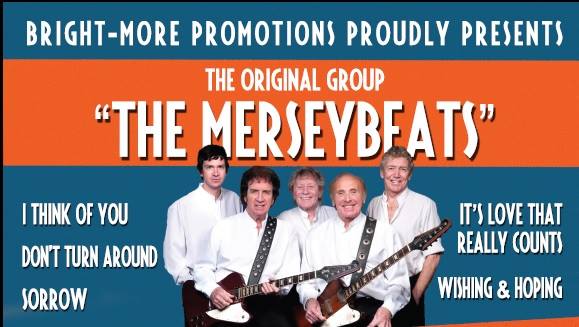 Friday 22nd Arden Hall - TONY CRANE SOLO with THE PACEMAKERS Tickets £20 - Beebee Productions 0121 749 5089 or 07929 181 246rane
and The Pacemakers - £20
Thursday 28th IOW - Norton Grange - Warners Leisure Hotel ----- Twixmas Getaway starring The Merseybeats, plus comedy from Paul Eastwood
2018
January
Saturday 20th Minehead - Butlins - FESTIVAL OF THE 60S - Fri 19 Jan 2018 - Mon 22 Jan 2018 (3 nights)
February
Friday 16th Salisbury - VENUE TO BE ADVISED
Saturday 17th Folkstone- Grand Burstin Hotel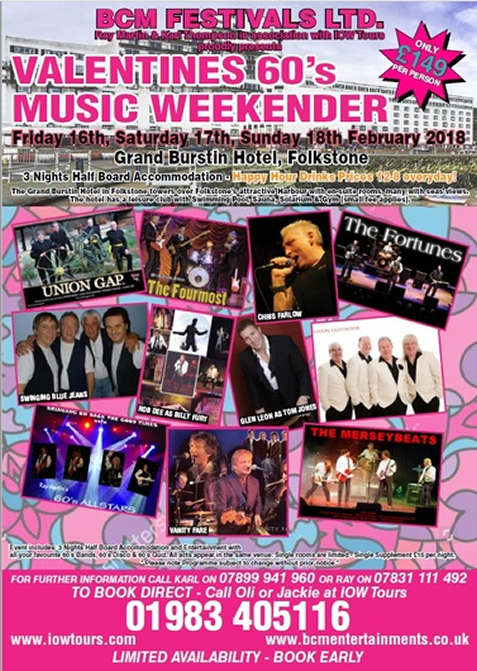 Sunday 25th Bury St Edmunds - The Apex Theatre - The Merseybeats, The Union Gap and Cupid's Inspiration
Starts: 7.30pm - Tickets: £26.50 - Venue: The Apex, Bury St Edmunds - This event is promoted together by OEP live! and The Apex
March
Friday 2nd - New Brighton - Floral Pavilion- Charity Event for RELATE - 60s Night Out featuring THE MERSEYBEATS with special guests THE SWINGING BLUE JEANS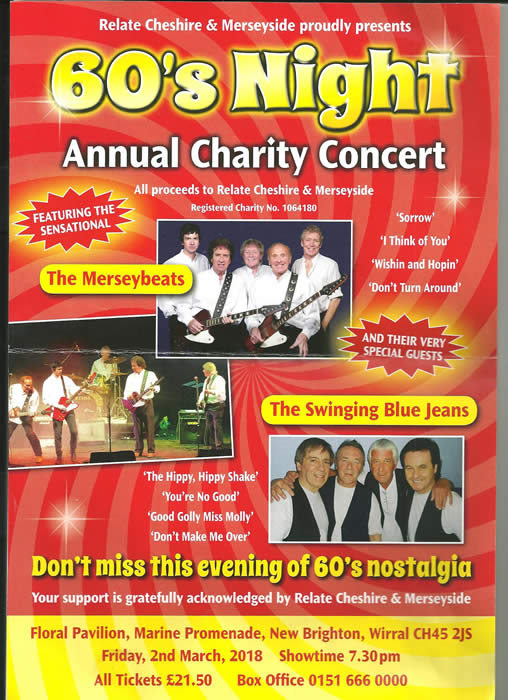 Friday 9th - Sand Bay - Pontins
Sunday 11th - Skegness - Butlins
May
Friday 25th Liverpool TBC
Saturday 26th - PRIVATE PARTY
June
Saturday 9th Amersham - The Polish Club, (Amersham Rock N Roll Club) Raans Road, Amersham. HP6 6LX (With The Swinging Blue Jeans)
Sunday 17th Hopton-On-Sea - Potters Lesiure
ONE NIGHT SIXTIES FESTIVAL - SUN 17TH JUNE 2018 - Original 60s bands will perform live in the Atlas Theatre, after your five-course dinner with selected wines. The party continues well into the night...
July
August
September
October
November
Saturday 24th - Swinging 60's Autumn Weekend 2018 -

Holiday Resort Unity, Brean Sands, Somerset, TA8 2RB

December