2018
David Copperfield is a man of many talents and one of the slickest comedy impressionists in the biz. A true entertainer that can play piano, violin, guitar and even the mandolin. David is also a very talented magician, a superb ventriloquist and a tremendous vbeat scene in the early 1960's The Merseybeats is a four piece
October 2nd to December 2nd
Sixties Gold Tour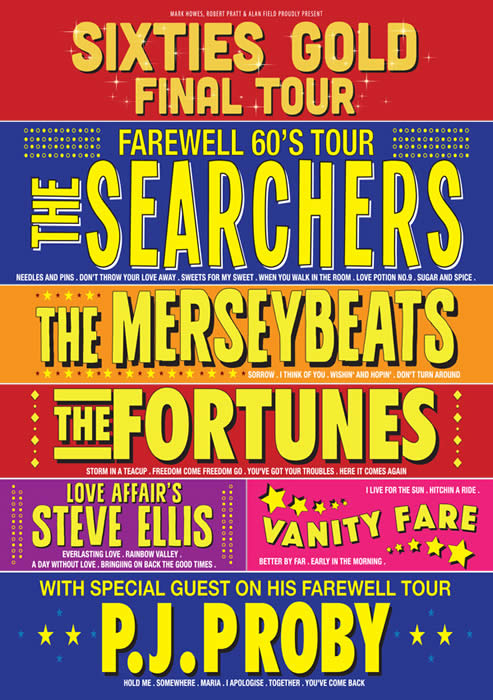 Following last years' successful tour, Sixties Gold returns with an even stronger line-up of artists that, between them, scored over 50 UK Top 30 hits.
With a career spanning 6 decades, The Searchers now embark upon what will be their 'Farewell 60s' tour.
It all began in Liverpool, where they were tipped to be as big as The Beatles, The Searchers spent 128 weeks in the charts, with sales of more than 50 million, including 3 massive UK No.1 hits.
The Merseybeats. Another success story from the Liverpool, Merseybeat boom years. Great memorable hit records including; Sorrow, I Think of You, and Wishin' and Hopin'.
Following on in the wake of Merseybeat, The Fortunesadded another dimension to the sound of the classic pop song.
With hits including; 'You've Got Your Troubles' and 'Here It Comes Again', The Fortunes remain one of the UK's premier harmony groups.
This will be ponytailed P.J. Proby's final tour. His controversial trouser splitting shocked the nation and in 1964 and was the Melody Maker teen idol award winner. His hit records spent 91 weeks in the charts.
Steve Ellis, the original lead vocalist and founder of Love Affair who had five Top 20 singles, including their No. 1 Everlasting Love.
Finally, Vanity Fare, scored with three top 20 hits in the late sixties, including their catchy 'Hitchin' A Ride'.
Re-live the magic of the 1960s with six of the biggest chart acts of the decade.
TOUR DATES
Date
Venue
Box Office
02/10/2018
New Theatre, Oxford
0844 871 3020
03/10/2018
Southport Theatre, Southport
01704 500036
04/10/2018
Venue Cymru, Lllandudno
01492 872 000
05/10/2018
St Davids Hall, Cardiff
029 2087 8444
06/10/2018
Alban Arena, St Albans
01727 844488
07/10/2018
Ipswich Regent, Regent
01473 433100
12/10/2018
De Montford Hall, Leicester
0116 233 3111
13/10/2018
Stevenage Concert Hall, Stevenage
01438 363200
14/10/2018
Cliffs Pavilion, Southend
01702 351135
19/10/2018
The Weymouth Pavilion, Weymouth
01305 783225
20/10/2018
Winter Gardens, Margate
0844 871 7646
21/10/2018
New Wimbledon Theatre, Wimbledon
0844 871 7646
25/10/2018
Orchard Theatre, Dartford
01322 220000
28/10/2018
Grand Theatre, Leeds
0844 848 2700

01/11/2018

Concert Hall, Glasgow

0141 353 8000

02/11/2018
Caird Hall, Dundee
01382 434940
03/11/2018
Eden Court, Inverness
01463 234234
04/11/2018
Beach Ballroom, Aberdeen
01224 647647
06/11/2018
Sage, Gateshead
0191 443 4661

07/11/2018

10/11/18

Opera House, Blackpool

Derngate, Northampton

0844 856 1111

11/11/2018
Theatre Royal, Norwich
01603 630000
17/11/2018
Liverpool Philharmonic, Liverpool
0151 709 3789
18/11/2018
Corn Exchange, Cambridge
01223 357851
23/11/2018
The Doncaster Dome, Doncaster
08442 770700
25/11/2018
Mayflower, Southampton
023 8071 1811
28/11/2018
Symphony Hall, Birmingham
0121 780 3333

30/11/2018

Bridgewater Hall, Manchester

0161 907 9000

02/12/2018
The Sands Centre, Carlisle
01228 633766
November
Thursday 29th Belfast - Waterfront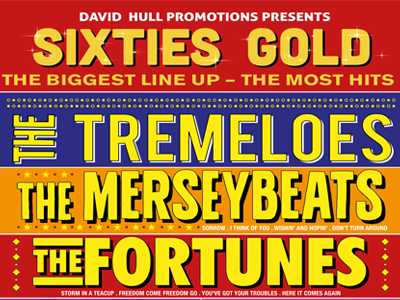 December
Friday 7th Skegness - Butlins - FESTIVAL OF THE 60S - Fri 07 Dec 2018 - Mon 10 Dec 2018 (3 nights)
Saturday 15th Morcambe - The Platform The Merseybeats' Christmas Show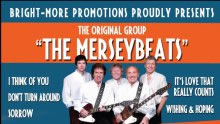 2019
January
26th Llandudno -Grand Hotel
February
Sunday 3rd Hopton On Sea - Potters Leisure
Friday 1st Minhead- Butlins FESTIVAL OF THE 60S04 Feb 2019 (3 nights)esor
March
Friday 8th Skegness - Butlins
Saturday 23rd Great Yarmouth - Vauxhall Holiday Park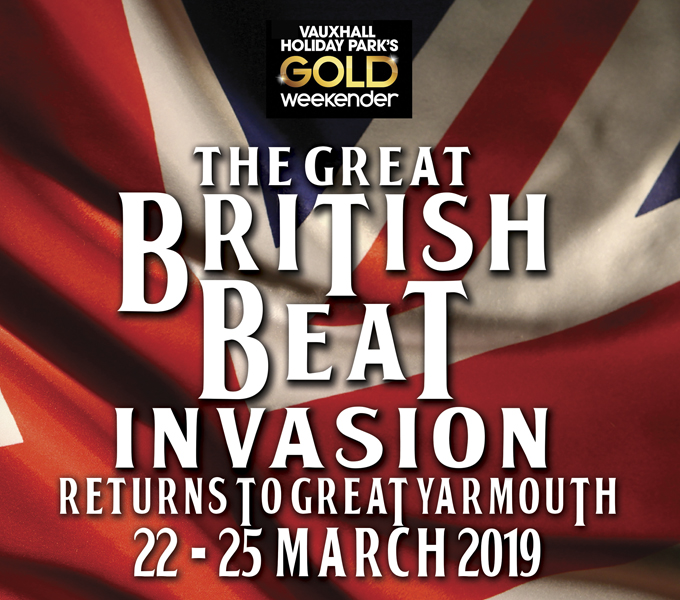 The Bands and Performers
The Merseybeats

PJ Proby with band

The Equals

Hijacked Hollies

The Dreamers

Colin Paul

Dozy, Beaky, Mick and Titch

The Tornados (original 60's band)

Alan Warners Foundations featuring original lead guitarist of Build Me Up Buttercup!

Plus Guest DJ's.

More acts announced
Swinging 60's Autumn Weekend 2019
Holiday Resort Unity, Brean Sands, Somerset TA8 2RB
Friday 22nd November - Monday 25th November 2019
| | | |
| --- | --- | --- |
| Swinging 60's Autumn Weekend 2019 | Holiday Resort Unity, Brean Sands, Somerset TA8 2RB | The Merseybeats, Union Gap, Ray Ennis Swinging Blue Jeans, Brian Poole & Band, New Amen Corner, Honeycombs, Carnaby Street, Alligators, Firebirds, Leroy Small, Mersey Legends, Rag Dolls, Temple Bros with Everly Brothers Show, Shakers (Thursday Show), Colin Paul (Thursday Show) |
Friday 29th New Brighton - Floral Pavilion (with The Fortunes)
April
Friday 5th Shrewsbury - Theatre Severn (with The Dakotas)
Saturday 6th Skegness - Richmond Holiday Park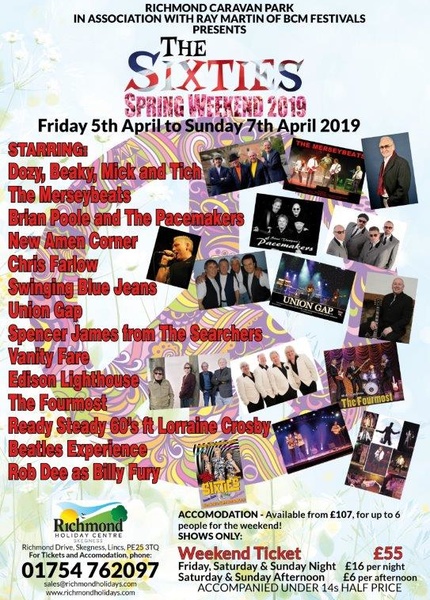 May
Friday 17th Oldham - Queen Elizabeth Hall, with The Merseybeats, Mike Pender , The Fourmost TBC
Friday 31st Dorset -HIGHCLIFFE SPORTS & SOCIAL CLUB
HIGHCLIFFE SPORTS & SOCIAL CLUB
387 Lymington Rd,
Highcliffe,
Dorset
BH23 5EG
?01425 273827
Top 60's band The Merseybeats will be playing all their hits and more followed by a 1960's disco on Friday 31st May 2019.
A raffle in aid of our chosen charity Variety Wessex plus bottles of Prosecco for the best dressed fancy dressers on the night.
Doors open at 7pm - show starts at 8pm. A night not to be missed!!!
Tickets available from Highcliffe Club box office (cash only),
online from www.quizbritainproductions.co.uk
or by phone on 07810 797825 (card only).
June
Friday 7th Northwich (with The Swinging Blue Jeans)
Saturday 8th Whitby Festival
Friday 15th Belgium

- Leopoldsburg



July
Saturday 20th Hayling Island - Mill Rythe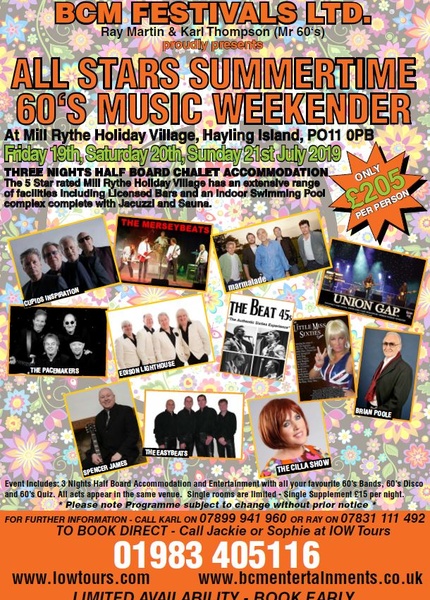 Friday 26th Liverpool - Aldelphi Hotel
Sixties Merseyside Legends Weekend 2019
Adelphi Hotel, Liverpool
Friday 26th July - Sunday 28th July 2019
Again this 60's Weekend has become a very popular event with everyone, The 'Sixties Merseyside Legends Weekend' at the historic Adelphi Hotel in Liverpool.
The Britannia Adelphi Hotel Liverpool is as much a part of Liverpools' heritage as the river Mersey, built in 1914 the Adelphi quickly became "one of the greatest hotels in the world". The hotel has featured in a BBC eight part series and is used for much location filming.
Also did you know that the front album cover of The Beatles "Sargent Peppers Lonely Hearts Club Band" was photographed in the bar area of the Adelphi.
SIXTIES GOLD TOUR 2019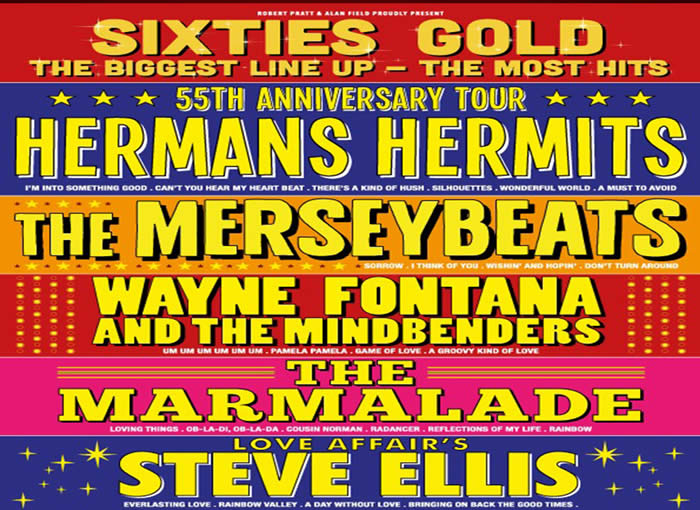 SEPTEMBER
Friday 27th Eastleigh - Concord Club
Saturday 28th Torquay - Princess Theatre
Sunday 29th Dartford - Ochard Theatre (two shows)
OCTOBER
Wednesday 2nd High Wycombe - Wycombe Swan
Friday 4th Stevenage - Stevenage Concert Hall
Saturday 5th Southend - Cliffs Pavilion
Sunday 6th St Albans - Alban Arena (two shows)
Wednesday 9th Croydon - Fairfield Hall
Thursday 10th Folkstone - Leas Cliff Hall
Wednesday 16th Swansea - The Grand
Thursday 17th Cardiff - St Davids Hall
Friday 18th Cheltenham Town Hall
Saturday 19th Cambridge - Corn Exchange
Friday 25th Weymouth - Pavillion
Saturday26th Poole - Lighthouse
Wednesday 30th Norwich - Theatre Royal
NOVEMBER
Friday 1st Leicester - De Montfort Hall
Saturday 2nd Blackpool - Opera House
Sunday 3rd Darlington - Hippodrome (two shows)
Wednesday 6th Gateshead - Sage
Thursday 7th Perth (venue TBA)
Friday 8th Aberdeen (venue TBA)
Saturday 9th Musselburgh - The Brunton (two shows)
Sunday 10th Glasgow - Concert Hall
Thurday 14th Portsmouth - The Guildhall
Friday 15th Margate - Winter Gardens
Sunday 17th Ipswich - The Regent
Wednesday 20th Hull - City Hall
Thursday 21st Chesterfield - Winding Wheel
Friday 22nd Doncaster - The Dome
Saturday 23rd Llandudno - Venue Cymru
Sunday 24th Birmingham - Symphony Hall
Tuesday 26th Eastbourne - Congress Theatre
Wednesday 27th Northampton - Royal & Derngate
Friday 29th Manchester - Bridgwater Hall
Saturday 30th Liverpool - Philharmonic Hall
DECEMBER
Sunday 15th Leeds - The Grand