Welcome to the BIOGRAPHY page
The Merseybeats Family Tree 2013
THE MERSEYBEATS History in brief..

Tony Crane (right)
Founder member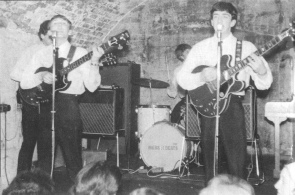 History in the making...
The Merseybeats were formed in 1961, in Liverpool under the name of The Mavericks which comprised of Tony Crane and Billy Kinsley working as an Everly Brothers influenced duo around the clubs of Liverpool. They soon became a four piece with the addition of David Elias(rhythm guitar, vocals) and Frank Sloane (drums).
For a short while they changed name to The Pacifics and in 1962 The Mavericks.
Bill Harry was asked if they could use the name of his copyright newspaper MERSEY BEAT
Bill Harry agreed.
It was a registered business at the time and couldn't be used without his personal permission,
" The Mavericks became The Mersey Beats"
Later the group was re-titled THE MERSEYBEATS.
Frank Sloane was replaced by
John Banks and David Elias by Aaron Williams.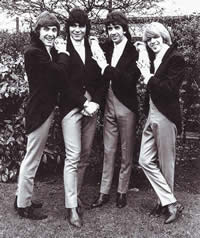 Billy Kinsley, Aaron Williams, Tony Crane, John Banks
They were originally signed to Brian Epstein, but he failed to supply The Merseybeats with the same classy suits that he had given The Beatles, dispute between artist and management. brought an end to their relationship, the spilt with Epstein is something the group regret to this very day. On the Fontana label, The Merseybeats received their first big hit in 1963 with 'It's Love That Really Counts' followed in 1964' by their million selling recording 'I Think of You' which raced up the top ten and presented them with their first gold disc. The Merseybeats adopted their own distinctive style of fashion, the sartorial elegance they would have liked under Epstein. New tailoring saw them credited as the 'Best Looking Group' dressed in tight fitting suits with bolero jackets and frilly shirts, their outfits complete with high heeled zip boots provoked hysteria from their female fans. They received further success with two more major hits, 'Don't Turn Around' and 'Wishin & Hopin', Other successful recordings include 'Last Night' 'Don't Let It Happen To Us' 'I Love You Yes I Do' 'I Stand Accused'. 'Mister Moonlight' 'Really Mystified' 'The Fortune Teller' 'Lovely Loretta' and 'It's Love That Really Counts'. The Merseybeats appeared regularly at Liverpool's world famous Cavern Club and they hold the unique distinction of appearing with The Beatles on more occasions than any other band from that era. Their success brought them international recognition, 1964 saw The Merseybeats appearing in Germany, the U.S.A. and even having their own Merseybeats Show on Italian television.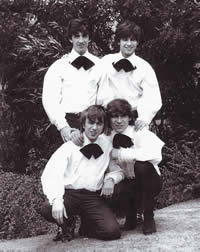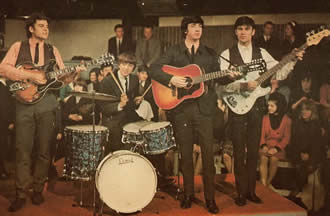 Tony Crane, Johnny Gustafson
John Banks, Aaron Williams
Kenny Mundye began his long association with The Merseybeats when he was the first to replace John Banks, who went missing one weekend in 1965! In 1964 Billy Kinsley left to form The Kinsleys and was replaced by the legendary Johnny Gustafson, the line up changed again when Billy returned to the group a few months later.
In 1966 Tony and Billy formed a vocal duo called simply The Merseys and with their backing band, The Fruit Eating Bears, they achieved their greatest ever recording success with 'Sorrow' which has become a sixties classic and mentioned as a favourite by many artists, David Bowie later recorded a version for his 'Pinups' album.. The original line-up of the unique 'two drumming band' the Fruit Eating bears was Joey Molland, guitar; Chris Finley, keyboards; George Cassidy, bass and Kenny Goodlass and Kenny Mundye on drums.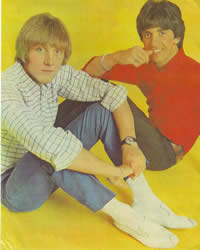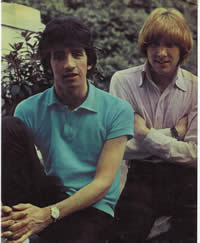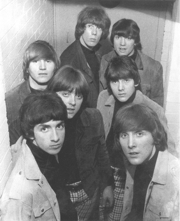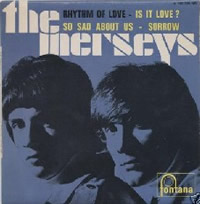 Tony & Billy with The Fruit Eating Bears
The Merseys had run their course, during the years 1969 - 1974 Tony Crane and Billy Kinsley with Kenny Mundye on drums played The Merseybeats, as a trio. They toured extensively, and played the Cabaret circuit which was often referred to as 'chicken in the basket' because that was the type of food served in those venues. They were headline performers at the 1971 Merseybeat Reunion Concert held at the Top Rank Ballroom, Liverpool.
Tony Crane continued to lead the group working on the cabaret circuit under the name of Tony Crane & The Merseybeats 1971 -74 with Tony Coates (Bass) , Chris Finley (keyboard), Derek Cashin (drums) - finally a line up comprising of Bob Packham (bass), Allan Cosgrove (drums) Colin Drummond ( keyboards and violin). Billy Kinsley formed Rockin Horse, Annabella and later the successful Liverpool Express, having hits both in the UK and South America with 'You Are My Love' and 'Every Man Must Have A Dream' Kenny Mundye was a member of Liverpool Express, replacing Derek Cashin in 1976. 1993: Billy Kinsley returned to the band, along with Dave Goldberg who had been an integral part of Liverpool Express. Tony Crane & The Merseybeats became, once again, The Merseybeats. 2000: Tony Crane's son Adrian joined the band replacing Dave Goldberg who left along with Allan Gosgove, the mastermind behind Rumours Of Fleetwood Mac. Replacement for Allan on drums is Lou Rosenthal, who career includes Ian Gillan Band, The Undertakers, and Export.
The Merseybeats today....

Tony Crane MBE
Lead Guitar / Lead Vocalist Original Founder member 1961 - present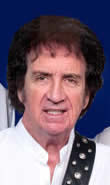 Adrian Crane
Keyboards & Lead Guitar (Tony Crane's son) Joined 2000 - present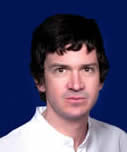 Bob Packham
Bass Guitar / Backing Vocals Joined 1974 - present


Lou Rosenthal
Drums & Percussion Joined 2000 - present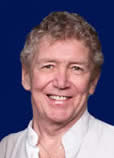 The group can only be described as one of the most powerful and exciting acts performing live music, they still continue to enthral thousands of fans World-wide, they are one of the most popular and authentic sixties bands still performing 50 years on!
A Merseybeats performance is spectacular and pulsating experience, classic hits' Think Of You' 'Wishin & Hopin' and 'Sorrow' are combined with emotive ballads and explosive pyrotechnic sets.